SHRIMP & ZUCCHINI FRITTERS
SHRIMP AND ZUCCHINI FRITTER
Tender chunks of shrimp with crisp zucchini and freshly chopped mint. Oven bake for brunch or scattered atop a bed of salad for lunch.
Product Description
SHRIMP AND ZUCCHINI FRITTER
Hand chopped fresh shrimp, zucchini and mint fritters are the stuff weekend brunches are made of. Serve as part of a brunch dish, or as a light lunch in salad.
Main Ingredients
Shrimp, Zucchini, Mint, Cheese, Flour.
Item Number | SZF-001-01
Raw or Pre-fried | Pre-fried
Nutrition Information
Serving size: 1.41oz (40g)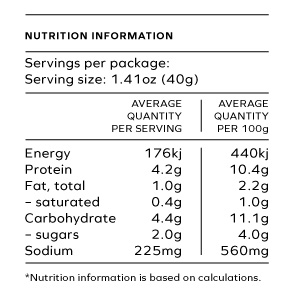 Size (OZ/PCE) | 1.41oz (40g) 
Shelf Life | 18 months
Ingredients: Zucchini, Shrimp, Cheese Powder, Milk Powder, Mint, Egg White Powder, Black Pepper, Wheat Flour, Tapioca Starch, Salt, Sugar, Yeast Extract.
ALLERGENS: Crustacean, Gluten, Milk
Discover the best the ocean has to offer