SMOKED SALMON HASH CAKES
Freshly grated potato mixed with diced smoked salmon pieces, onion and herbs. Seasoned with spices, formed by hand and individually pan-fried.
Product Description
SMOKED SALMON HASH CAKES
Smokey diced salmon perfectly complement a combination of freshly grated potato and select herbs & spices. Great as an appetizer or serve with salad for a light, tasty meal.
Main Ingredients
Salmon, Potato, Onion, Shallot, Parsley.
Item Number | VAS-001-02
Raw or Pre-fried | Pre-fried
Nutrition Information
Serving size: 2.65oz (75g)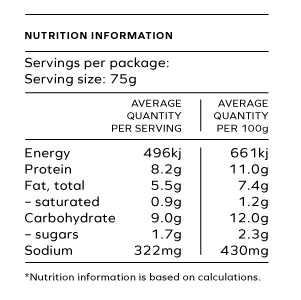 Size (OZ/PCE) | 2.65oz (75g)
Shelf Life | 18 months
Ingredients: Smoked Salmon (Salmo Salar) Potato, Onion, Wheat Flour, Shallot, Parsley, Garlic, Refined Soybean Oil, Black Pepper, Salt, Yeast Extract
ALLERGENS: Fish, Wheat
Discover the best the ocean has to offer